Famous Golden Triangle (Delhi, Agra and Jaipur)Duration: 4 days/3 nights
The Golden Triangle Tour lets you experience the regale culture of Northern India in all its pomp and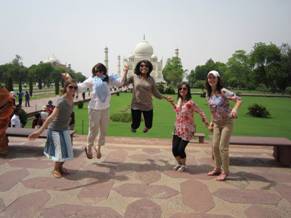 pageantry. The tour focuses on various cultures and traditions, idyllic and grand edifices and structures of bygone era, as well as lets you have an insight into the traditions and cultures of India. The tour focuses on three big cities of Delhi, Agra and Jaipur. The pink city of Jaipur gives you an essence of rich architectural heritage and culture, whereas Agra will showcase the life style and traditions. Meanwhile Delhi will define the apt amalgamation of modern with the old which accentuate the difference between the two. Set yourself free in India, explore the explicit space and learn more the enigma and richness of India.
Proposed Itinerary
Day One: Arrive in Delhi, the first day starts with the exploration of different important places in old Delhi like Red Fort, the historical Chandni Chowk, Raj Ghat, and Shanti Vana. Apart from the old Delhi, you will also visit the New Delhi where you would visit the Rashtrapati Bhawan, India Gate, and Qutub Minar.

Day Two: Arrive at Jaipur, lunch will be served and a sightseeing tour to enjoy the romantic essence of the pink city. The city welcomes you with a blend of its Rajasthani and Mugal architectures where time is stagnant to define its aura. One can even visit the city palace along with museum, Amer Fort and Hawa Mahal. Further Jaipur is a pink city itself to look at. Further the tour includes a visit to the Hawa Mahal or the palace of winds which orchestrates the royal epitome of the female status and their life style of the queen of India.

Day Three: The third day of the tour starts with early beakfast in the morning and you will visit Fatehpur Sikri on the way, a desert town. Then moving on with a five hour drive to the city of Taj, you will have lunch at the hotel and visit Taj Mahal in the sunset. Here you can witness the world marvel with its splendid glory where it stands with the picturesque frame to be captured in a picture or memory.

Day Four: The fourth day of the tour starts with early beakfast in the morning and you will visit Agra fort & itmad-ud-daulah's tomb. After the exploration return back to Delhi in the afternoon, the journey is about 205KM and takes about 4 hrs.
(Note: This is a sample Itinerary and can differ in the field situation)
Dates and Price
Program fee: US $499
Dates: 1st and 15th of every month
What does program fee covers
Airport receive
Transfer to hotel or hostel
Guide
Accommodations and breakfast
Transport to project (one way)
Support from local staffs
Orientation upon arrival
Emergency support
What program fee does not cover?
Airfare, Visa and Visa extension fee
Return/transfer to airport, airport taxes
Any personal expenses
Lunch and Dinner
Mineral water and soft drinks
Gifts to project staffs and host family
Laundry, Telephone, Immunization
Insurance and liability