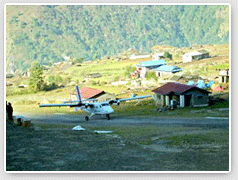 Mount Everest, the highest mountain in the world, attracts nature lovers and trekkers in abundance. Besides the majestic Himalayas, you'll find Everest region a magical place of ancient history and home to people from diverse ethnic groups with rich cultural traditions. The trek to Everest Base Camp is without doubt one of the most famous in the world which takes you into the heart of the Himalayan Range, with awe-inspiring views of many of the worlds highest and most beautiful mountains. The trek takes you through lush valleys with abundant flora and fauna and you'll pass through friendly Sherpa villages and Buddhist monasteries and yaks. You will also enjoy spectacular sceneries of surrounding peaks, monasteries and glaciers.

From Kathmandu, you'll fly to Lukla and the adventure begins as soon as you land on a tiny airstrip. The geography and the landscape of this region enable the blend of different culture which is seen in villages and Buddhist monasteries. With distant views of Everest and neighboring mountain of Ama Dablam, many considered this to be among the most beautiful mountains in Nepal.

You'll also spend a day in Namche Bazaar, a bustling market town in the heart of Sherpa country. At Pheriche, you'll visit a cluster of houses set among the high summer grazing pastures of the region. You'll rest in these settlements and acclimatize, an important factor as you enjoy the trek. Once you do that, you'll successfully complete the trek to Everest Base Camp. You'll also travel to Kala Pattar, the highlight for most, from where you can view the chaotic ice sculptures of the Khumbu Glacier, Nuptse and the south-west face of Everest itself.

14 Days Everest Base camps Trekking: US$ 1400 per person
Itinerary in Details