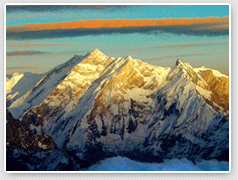 The trekking route in and around Annapurna is renowned through the world for its spectacular views of mighty Himalayas and bio diversity present in the landscape. There are several routes you can choose from while trekking in Annapurna. The most popular and the longest route is the Annapurna Circuit Trek. During the 3 weeks trekking of the circuit, you'll travel right up to the massive mountains and witness quaint villages, pine forests and encounter friendly people on the way.
In the interior of Annapurna Circuit lies mystical Tilicho Lake, surrounded by snow covered peaks. Likewise, the upper sub-alpine steppe harbors some of the rarest animals like snow leopards and blue sheep. You'll also encounter tremendous varieties of birds, multi-colored Impeyan and kokla. Many plants native to Nepal are found in this forest.
You can also choose to enjoy Annapurna region through 5 day trek, 7 day trek and 11 day trek.
5 DAYS ANNAPURNA TREKKING : US $325 per person