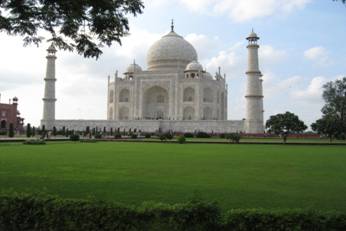 Day One: We pick you up from the hotel or hostel that you are staying in and then take you to Agra. On the way, you will eat breakfast. Upon arrival to Agra, you will meet our guide and he will take you to see Taj Mahal. After Taj Mahal, you will eat lunch and return to Delhi.  The journey is about 450 KM both ways and takes about 4 to go and 4 hours to return.

(Note: This is a sample Itinerary and can differ in the field situation)
Dates and Price
Program fee: US $111
Dates: 1st and 15th of every month
What does program fee covers
Airport receive
Transfer to hotel or hostel
Guide
Accommodations and breakfast
Transport to project (one way)
Support from local staffs
Orientation upon arrival
Emergency support
What program fee does not cover?
Airfare, Visa and Visa extension fee
Return/transfer to airport, airport taxes
Any personal expenses and hotal accommodation
Lunch and Dinner
Mineral water and soft drinks
Gifts to project staffs and host family
Laundry, Telephone, Immunization
Insurance and liability